O Muse! 02: Summer Solstice 2021
---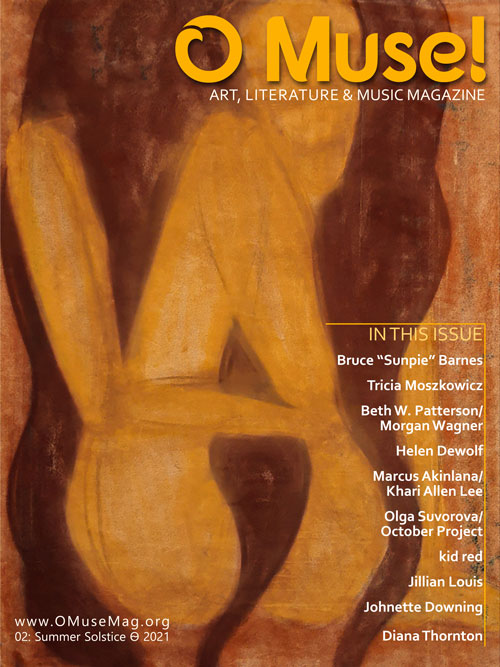 ---
O Muse! 02: Summer Solstice 2021
This publication is designed to be viewed on a tablet or computer
in any PDF reader or browser. Individual articles are posted here for responsive viewing.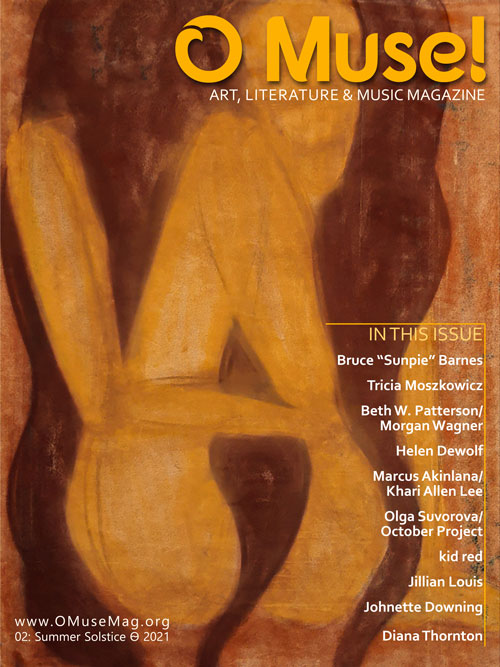 54 pages
I am excited to present the photography of Bruce "Sunpie" Barnes, a tremendous musician and author and former Park Ranger. I have worked with him over the years to design some of his albums. He is the essence of O Muse! Magazine – a talented artist in a variety of mediums who gives back to his community and the next generation of artists.
The Adventures of Luna and Danzi continues with more zany characters and adventures. Luna, Danzi, Weeb, Hoobie and Froobie have arrived in New Orleans, and if you've ever been there, you'll recognize some of the characters and sights. Because of Beth's schedule (she's a working musician), we switched from monthly with two extra chapters between issues to just one extra chapter posted between issues (about every 6 weeks).
The Art of Music is a new series featuring album artwork. With so many digital-only releases and the tiny print these days, cover artists are often overlooked or completely uncredited. The idea is to highlight artwork that can stand on its own and now embodies the visual identity for the music. The first two featured in this issue have very different musical and artistic styles. Marcus Akinlana is a mural artist, drummer and Olorisa Sango whose vibrant work is found on Jazz albums by Khari Allen Lee and others. October Project, a group I have followed for decades, just released a new album of choral rounds with fascinating Rococo-style cover art by Russian artist Olga Suvorova that captures the essence of the music perfectly.
There is Texture, Nature and Movement through geodes, cedar roots, yarn, and beads from Helen Dewolf, a friend from my archaeology days at Texas A&M. She is a skilled, hard-working artist who created the art for my first album 30 years ago and spent much of her career meticulously documenting artifacts. Helen has since returned to her "fiber roots" with her weavings, tapestries and imaginative mixed-media sculptures.
On the Cover: Tricia Moszkowicz's rich, sensual paintings and introspective writings were brought to my attention by Beth Patterson.
Featurettes include: haiku from musician Johnette Downing; a pre-digital photograph taken deep in the woods of Bayou Liberty, Louisiana, by kid red who plays spicy electric roots rock seasoned with swing, salsa and reggae; and two whimsical ink drawings from Jillian Louis. I've also started a new series highlighting one Muse per issue.
Of course I had to include a few of my own photos, including a series I shot in Chicago a few years ago of kids playing at Crown Fountain in the water at Millenium Park for this Summer Solstice issue.
I'm already collecting works for the Fall Equinox issue, which goes live Sept. 22, 2021.
Happy Summer!
Diana
Download or View PDF from OneDrive
(large, high resolution file)
Or click on live view below to read in full screen now.

Sponsor to received sneak peeks, extra content and new issues.