O Muse! 07: Summer Solstice 2022
---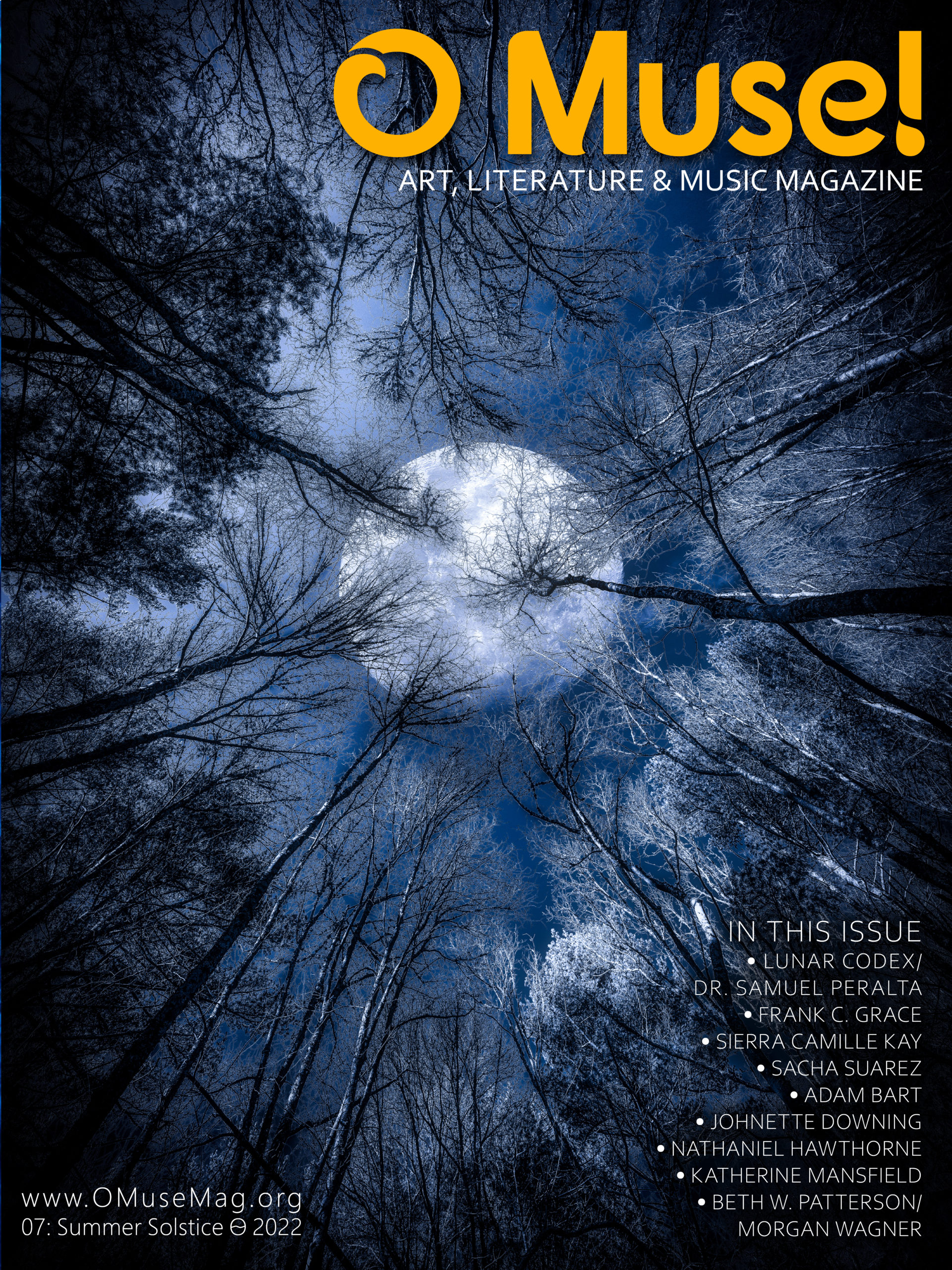 ---
O Muse! 07: Summer Solstice 2022
ON THE COVER
Everything is Blue in the World by Frank C. Grace
IN THIS ISSUE
Lunar Codex/Dr. Samuel Peralta • Frank C. Grace • Sierra Camille Kay • Sacha Suarez • Kate Rusby • Adam Bart • Johnette Downing • Nathaniel Hawthorne • Katherine Mansfield • Beth W. Patterson/ Morgan Wagner
Note: I have confirmed that this issue will be included in the Lunar Codex, a massive collection of art, books, music and more to be sent to the moon in 2023 on the SpaceX / Astrobotic Griffin / NASA VIPER rover mission. Read more here.
After the intensity of last issue on Ukraine, it's been difficult to focus on a theme. Then I got the news that O Muse! Magazine was selected for inclusion in the Lunar Codex, a collection of art, literature and music being sent to the moon in a time capsule next year. Thank you Beth for making this connection to DR. Samuel Peralta for us. This was just what I needed to re-energize me. I switched the issue muse to Urania, the Muse of Astronomy so you'll notice a lot of moon references in this issue, including in the lyrics to one of my songs.
Musicians, poets, artists and writers have always been drawn the moon. Kate Rusby's song Hunter Moon is one of my favorites to play, and I was able to obtain permission to include the lyrics. She describes it as a love song from the moon to the sun.
An excerpt from Nathaniel Hawthorne's House of the Seven Gables has a wonderful moon description and led me to Frank Grace's cool gritty HDR images of the actual house. Frank's moon image was immediately obvious for the cover for what was quickly becoming my "moon issue." I look forward to including more of his work in future issues.
If this gets you looking up at the moon more, there will be three full moons this quarter—July 13 (Super moon), August 12 (at the same time as the Perseids meteor shower) and September 10 (Harvest Moon).
Not everything is about the moon. I compiled several pieces reminding us to look at, listen to, and appreciate the wonders of our current celestial body.
Johnette Downing returns with selections from her new book of haiku.
Sacha Suarez, whose Guernica-inspired piece was in the Ukraine issue, returns with some of her blue acrylics (including one more moon image) that evoke a deep peace in me when I look at them.
Several issues ago I connected with Tracy Conway, whose partner Sierra Camille Kay makes puppets, including one who paints!
The grand finale of Luna and Danzi brings their Earth adventure to a rollicking close. The next step is to compile all the chapters into a book and fill in some more details. I'll let you know when it is published (and if it comes out as a movie. Who do you think the cast should be? Let us know!). I also disclosed the full text of Luna's allegorical drama (Beth's inspiration for Luna and Danzi).
I closed out the issue with Polish ceramic artist Adam Bart's quirky, whimsical characters that make me smile every time I see them. I ordered my own Hoo-Mee and I plan to put him on my desk.
Have a wonderful summer,
Diana
Individual articles are posted here for responsive viewing.
Click here to Download or View PDF from OneDrive
(designed to be viewed on a tablet or computer in any PDF reader or browser)
Or click on live view below to read in full screen now.
Sponsor to received sneak peeks, extra content and new issues.