O Muse! 06: Ukraine Edition 2022
---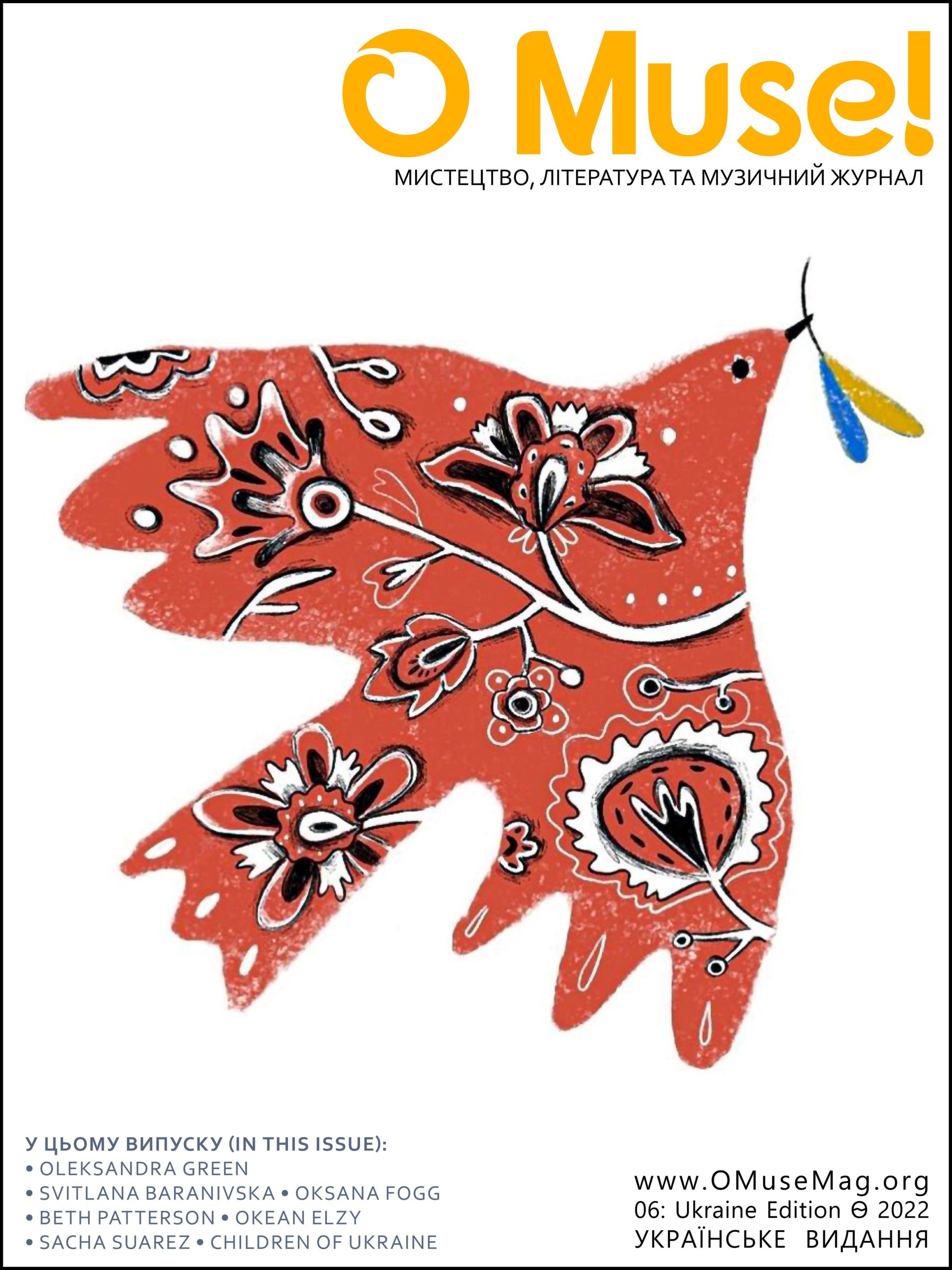 ---
O Muse! 06: Ukraine Edition 2022
This publication can be
DOWNLOADED AS A PDF
SCROLL DOWN FOR LINK
READ ON SCREEN
SCROLL DOWN FOR WINDOW
or
Individual articles are posted here for responsive viewing.
ON THE COVER
Peace Dove by Oleksandra Green
У ЦЬОМУ ВИПУСКУ (In this issue):
Oleksandra Green • Volodymyr Zelenskyy • Svitlana Baranivska • Oksana Fogg • Beth Patterson • Okean Elzy • Sacha Suarez • Children of Ukraine
This is a special interim issue devoted to the Russian invasion of Ukraine. I'll warn you, it contains emotional and intense content.
I'm not sure why I suddenly activated over this now. Ukraine was never on my "radar" and I, like many Americans, knew very little about the history or the people, and most of that was wrong. I grew up during the Cold War, and Ukraine was just another part of Russia as far as I knew.
ON THE COVER: In my previous issue I had hoped to feature OLEKSANDRA GREEN's artwork, but didn't hear back from her in time. I recently discovered Oleksandra's art on social media, and her hashtags make her emotions and determination crystal clear: #stoprussianaggression, #stopwarinukraine, #prayforukraine and #fuckputin.
When I finally heard from her, she kindly gave me permission to publish her drawings. Even though I just released my Spring issue on March 21, I decided to publish a follow-up issue dedicated to Ukraine. Please see the Spring 2022 issue for other articles.
Thank you to Oksana Nimkevych for translating Oleksandra's posts into English. I know it was an emotional task. Thank you SVITLANA BARANIVSKA for connecting me with the New Orleans Ukrainian community through the Facebook group SUPPORT UKRAINE (click for link). They sent me many great links to Ukrainian poetry, music and art special to them. Galina Kuleshova from Support Ukraine turned me on to OKEAN ELZY, the hottest rock band in Ukraine.
Oksana told me about MOM, I SEE WAR, a poignant project shared by Ukraine's First Lady Olena Zelenska on her Telegram Chanel. They are collecting thousands of Ukrainian children's drawings as a fundraiser and posting them online. The children are forever changed by this war, and they see it all so clearly, even if they don't understand it. Their art expresses a gamut of emotions and themes ­— apocalypse, peace, anger, battles, before and after, and hope — all with a fierce national pride and cultural joy. They share a deep sense of family and love, but the darkness and fear screams from their art.
BETH PATTERSON let me reprint the lyrics to one of the best songs I think she has ever written that I felt had to be included.
There is also some non-war art and Ukrainian culture. I wish I could have included more. Many of the customs and motifs remind me of my Swabish (German) ancestors. SVITLANA BARANIFSKA submitted a piece showing a traditional family and home, and OKSANA FOGG submitted one of her paintings of Ukrainian sunflowers. Both are being auctioned to raise funds. I've always loved sunflowers, and this week I planted my lower pasture with 30 pounds of black oil sunflower seeds hoping for a field full of them.
This issue has been a fascinating virtual journey to Ukraine, although it's been more like taking a 2-day bus tour through a country where I don't speak the language, stopping to see a few churches and monuments. It doesn't even scratch the surface.
It's been an emotional internal journey as well, as I struggle with my own beliefs and watch helplessly from across the ocean as history repeats itself. But the first step is educating ourselves and paying attention. Speaking out and connecting are next, along with insisting on peace and respect for life.
# Мир #Peace
Diana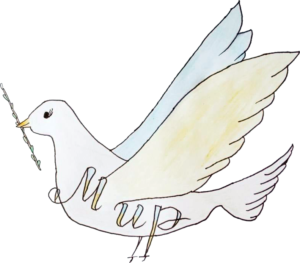 Click here to Download or View PDF from OneDrive
(designed to be viewed on a tablet or computer in any PDF reader or browser)
Or click on live view below to read in full screen now.
Sponsor to received sneak peeks, extra content and new issues.