O Muse! is going to the MOON!!!!
---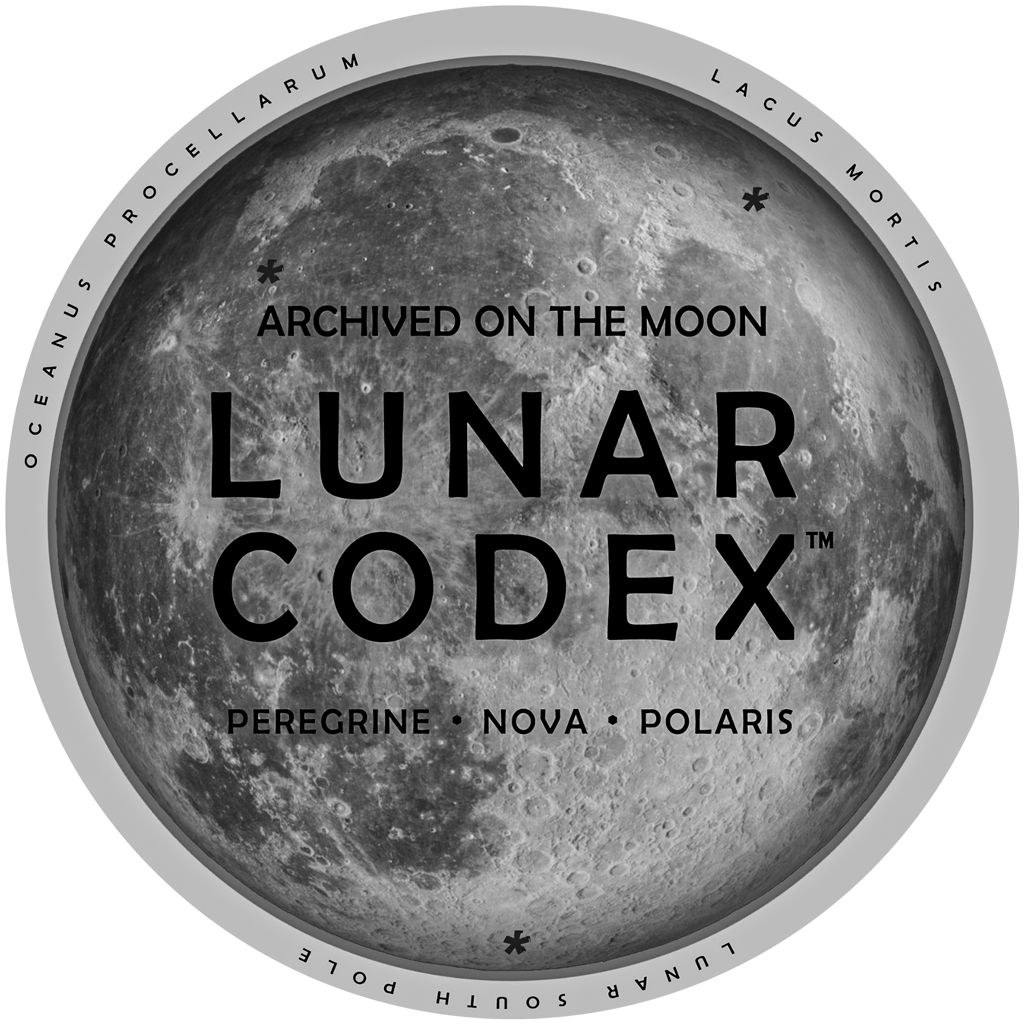 ---
O Muse! is going to the MOON!!!!
I am excited and honored to announce that the first six SEVEN issues of O Muse! Magazine will be included in the Lunar Codex, a massive collection of art, books, music and more to be sent to the moon in the Polaris time capsule on the SpaceX / Astrobotic Griffin / NASA VIPER rover mission to the Lunar South Pole.
It is a message-in-a-bottle to the future.
NASA's Artemis Program will return humans to the Moon in 2025 for the first time in over 50 years. ​In preparation, NASA will send scientific instruments to the moon via Commercial Lunar Payload Service (CLPS) partners, such as Astrobotic Technologies and Intuitive Machines. Their lunar landers will launch as payloads of commercial rocket platforms by the United Launch Alliance (ULA) or SpaceX.
Along with NASA instruments, these missions will carry commercial payloads, including the time capsules that hold The Lunar Codex.
O Muse! is targeted to land in the south polar region of the Moon in late 2023 or early 2024.
The Polaris mission will investigate permanently shadowed regions of craters in the moon's south pole for potential deposits of water ice that could be used as resources for future crewed missions.
Dr. Samuel Peralta
I dreamed of going to the Moon and one day it was possible. I'm sharing that dream with many of the artists, authors, musicians, and filmmakers whose work I love. ​The Lunar Codex is that dream realized, a collection of works from thousands of artists across the globe, launched in three time capsules to the Moon.

In fiction circles, Samuel is perhaps best-known as the creator and series editor of the acclaimed Future Chronicles series of speculative fiction anthologies, with every title rising in turn to the top of the Amazon hot new release and bestseller lists. ​He was recognized as a Best American Science Fiction & Fantasy notable author for his work, Hereafter. His book projects have hit the Wall Street Journal and USA Today bestseller lists and have hit #1 in the speculative fiction charts on all major ebook platforms.
Samuel's own works have been published in numerous magazines and anthologies, including Lightspeed, Beyond the Stars, Frontiers of Speculative Fiction, Canyons of the Damned, UnCommon Anthologies, Existere, OCHO, Seedpod, Undercurrents, and Fictionaut. ​His literary work has been spotlighted in Best American Poetry, and recognized with numerous awards, including from the BBC, the UK Poetry Society, the Palanca Memorial Awards Foundation, Twitter, and in shortlists for the League of Canadian Poets, the Elgin Award, Goodreads Best Small Press Books, and the ARC Poem of the Year.
Samuel Peralta: The Physics of Poetry – Combustus
Samuel's passion in digital publishing parallels his drive in technological and business innovation. Among other things, he won a New Technology Award for a laser inspection system for detecting flaws in nuclear reactor cores, and his work in e-book software won an Innovative Technology Achievement Award from the Digital Literature Institute. A semiconductor firm he co-founded was named to the Toronto Stock Exchange's TSX Venture Top 50, and to Canadian Business Magazine's Top Tech 100.
​"Our hope is that future travelers who find these time capsules will discover some of the richness of our world today… It speaks to the idea that, despite wars and pandemics and climate upheaval, humankind found time to dream, time to create art." – Samuel Peralta
Samuel Peralta (future-chronicles.com)
---
Thank you to all the phenomenal artists, writers and musicians who make O Muse! possible. Thank you, Samuel, for your support, your vision and your imagination. And thank you Beth Patterson (author of The Adventures of Luna and Danzi) for making this connection for us. – Diana Thornton, Editor in Chief
I'll update this post as new information comes in.