O Muse! 05: Spring Equinox 2022
---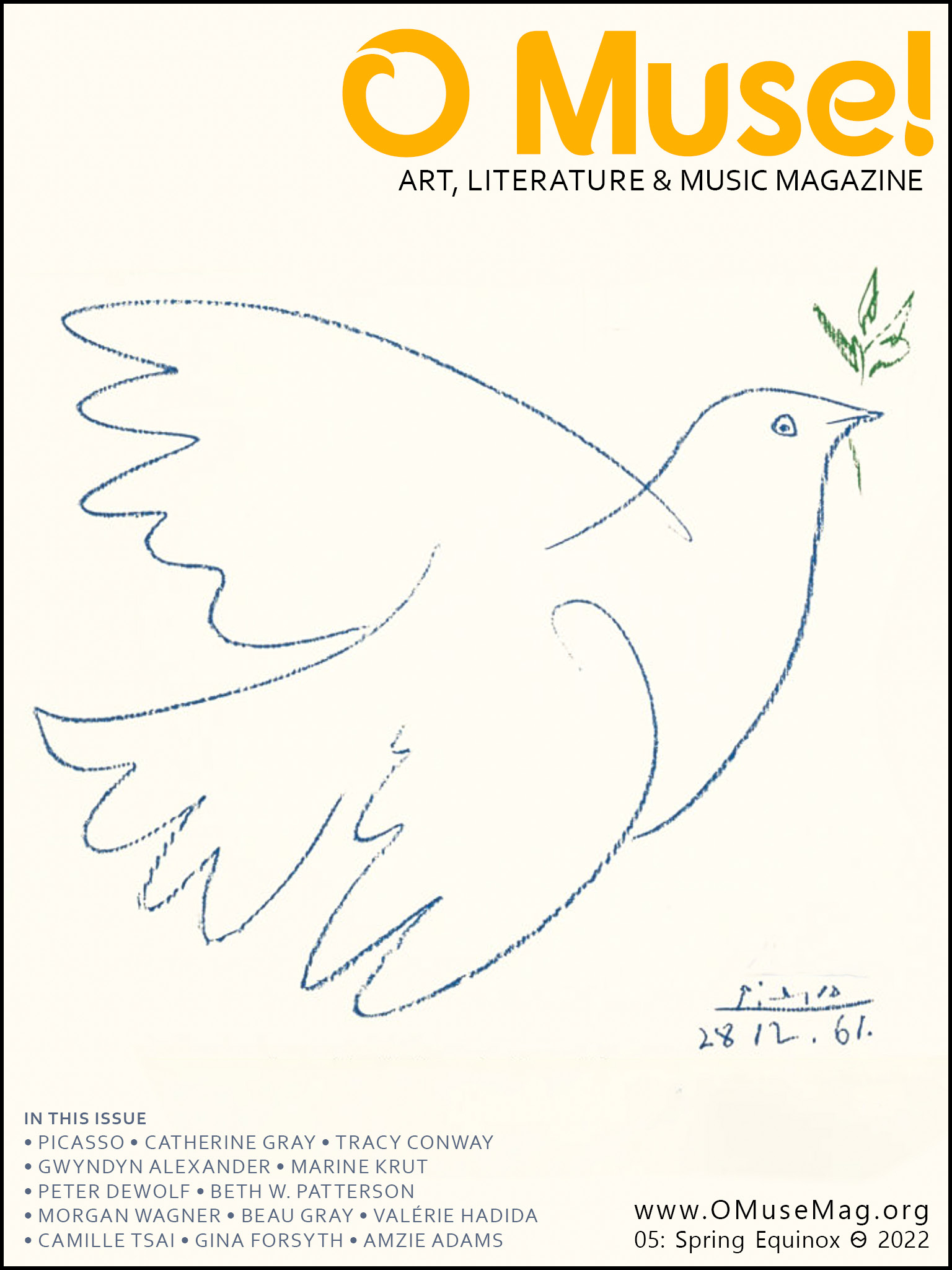 ---
O Muse! 05: Spring Equinox 2022
This publication is designed to be viewed on a tablet or computer
in any PDF reader or browser. Individual articles are posted here for responsive viewing.
ON THE COVER
Dove of Peace by Pablo Picasso
Picasso • Catherine Gray • Tracy Conway • Gwyndyn T. Alexander • Peter Dewolf • Beau Gray/Lexington Field • Hector Giacomelli • Marina Krut & The Khmelnitsky Municipal Choir • Gina Forsyth • Amzie Adams • Gōchō Kankai • Camille Tsai • Valérie Hadida • Clarissa Scott Delaney • Missy Bowen • T. S. Eliot
NOT ON THE COVER: I was hoping to feature a drawing of a Peace Dove by Ukrainian artist Oleksandra Green (Олександра Грін). The dove is decorated with Ukrainian motifs and holds a blue and yellow olive branch in its beak. I recently discovered Oleksandra's art on social media, and her hashtags make her determination crystal clear: #stoprussianaggression, #stopwarinukraine, #prayforukraine and #fuckputin.
I messaged and emailed Oleksandra to get her permission to publish her drawings, but I have yet to receive a response from her. If I hear from her, I'll post the article on the website. In the meantime, I'll share her Facebook posts to my page.
Although I'm disappointed that I can't feature her Peace Dove, instead, ON THE COVER, I present the original Dove of Peace by PICASSO. I was not aware of the history of the Dove, and this gave me a chance to add an article about it, share descriptions of Oleksandra's artwork, and explore my understanding of the invasion.
Oleksandra also posted a link to an inspiring performance by Ukrainian singer MARINA KRUT and the KHMELNITSKY MUNICIPAL CHOIR. This is no ordinary "concert"—the women are in their rehearsal room making camouflage nets as they sing: "Before the war, we were all musicians, singers, artists, dancers, and just people."
I include another Ukraine-related song by New Orleans singer/songwriter GINA FORSYTH, and AMZIE ADAMS returns with a Sunflower painting, Ukraine's national flower.
The rest of the issue returns to a lighter fare with a spring theme.
CATHERINE GRAY, from Ireland, creates bright, cheerful needlepoint multi-media paintings bursting with springtime.
MISSY BOWEN submitted a superb photo of a Northern Parula taken on a recent walk. Two poets, TRACY CONWAY and GWYNDYN ALEXANDER, lately known for more intense themes, dug out some works revealing their more hopeful sides.
PETER DEWOLF (textile artist Helen DeWolf's brother) bribed me with some of his scrumptious Red Rocks toffee and submitted a photo that most New Orleanians will get. He also does a cool "unframe" that I can't wait to try with some of my photography.
LUNA AND DANZI, now up to Episode Six, is getting really interesting, and Beth is starting to reveal a few surprises.
MORGAN WAGNER has been busy illustrating not only Luna and Danzi, but a new children's book called The Lumberjack written by Beau Gray of the fiddle rock band Lexington Field based on a song he wrote. I immediately ordered one for my sister's kids.
CAMILLE TSAI is a painter and sculptor in Taiwan whose fun energy caught my eye during one of my online searches for content.
VALÉRIE HADIDA is a French artist who creates bronze sculptures of lyrical portraits of women that she calls "little good women."
Finally, I am including a few small ads to experiment with ways to financially support this endeavor. If you'd like to help support O Muse! while I help promote you – give me a call to talk about an ad.
Peace.
Diana Thornton
Download or View PDF from OneDrive
Or click on live view below to read in full screen now.
Subscribe
to receive
extra content,
sneak peeks and
Beth's next chapters.