Dove of Peace
---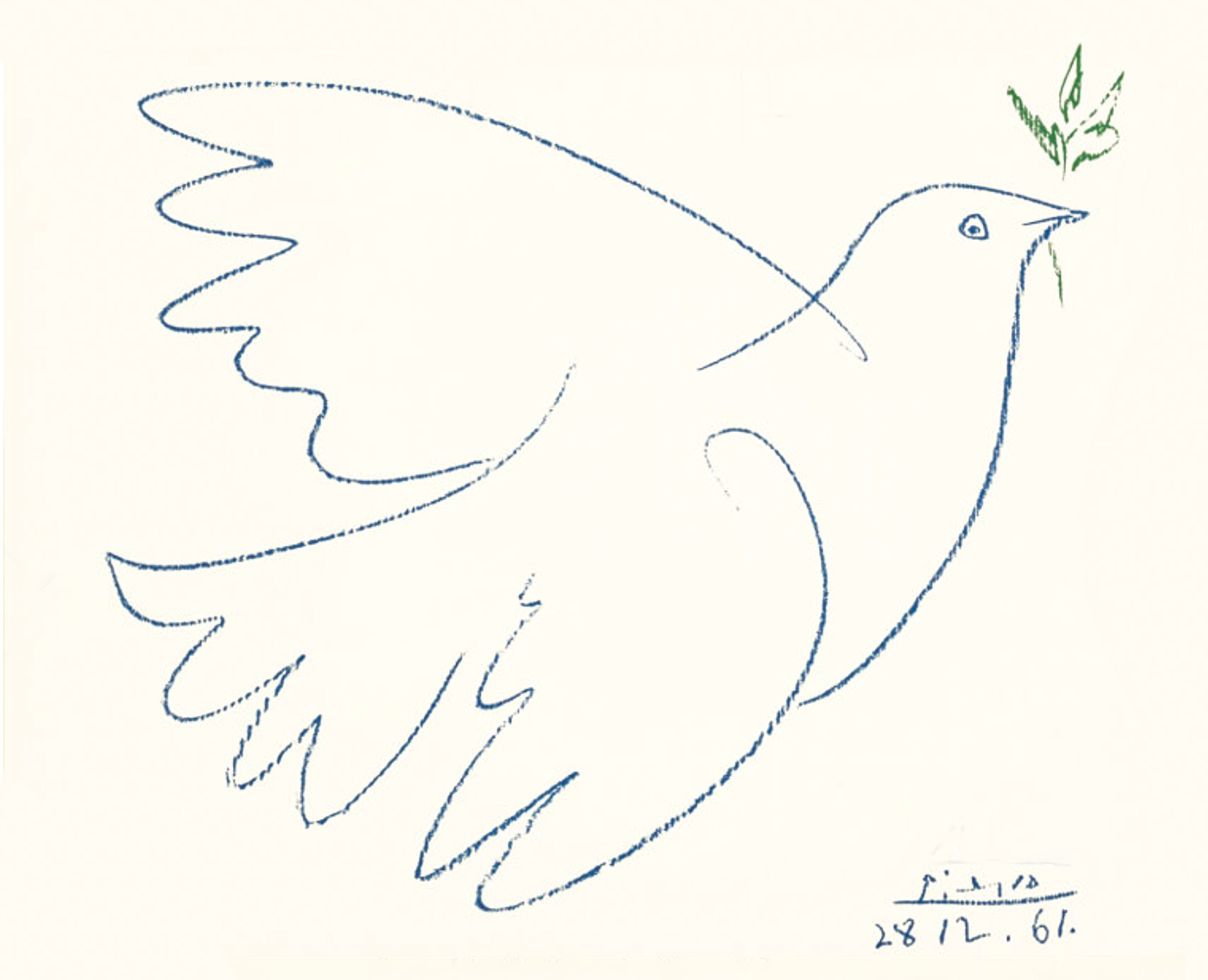 ---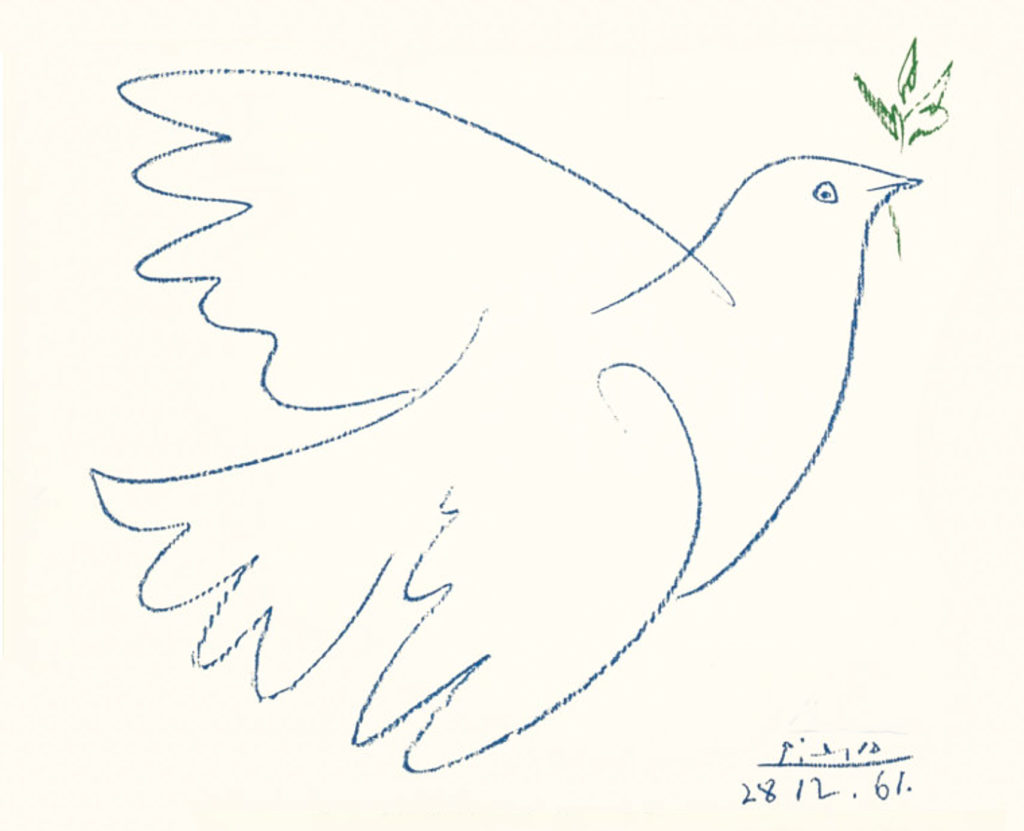 The original Dove of Peace was designed by Pablo Picasso in 1949. Picasso had become known for his passionate anti-war painting, Guernica, (shown on next page) depicting the 1937 bombing of the Basque town in Spain by Nazi Germany during the Spanish Civil War. Hitler used the bombardment to develop new tactics and train his Luftwaffe for the impending Blitzkrieg. The painting renders the suffering, chaos and devastation of the attack on a massive scale.
A few years after WWII, Picasso was asked to design an image to represent peace. His first version of the Dove was used on the 1949 Paris Peace Congress poster. This first incarnation was a lifelike sketch based on a real bird given to him by fellow artist, Henri Matisse. (A pigeon is just another type of dove.)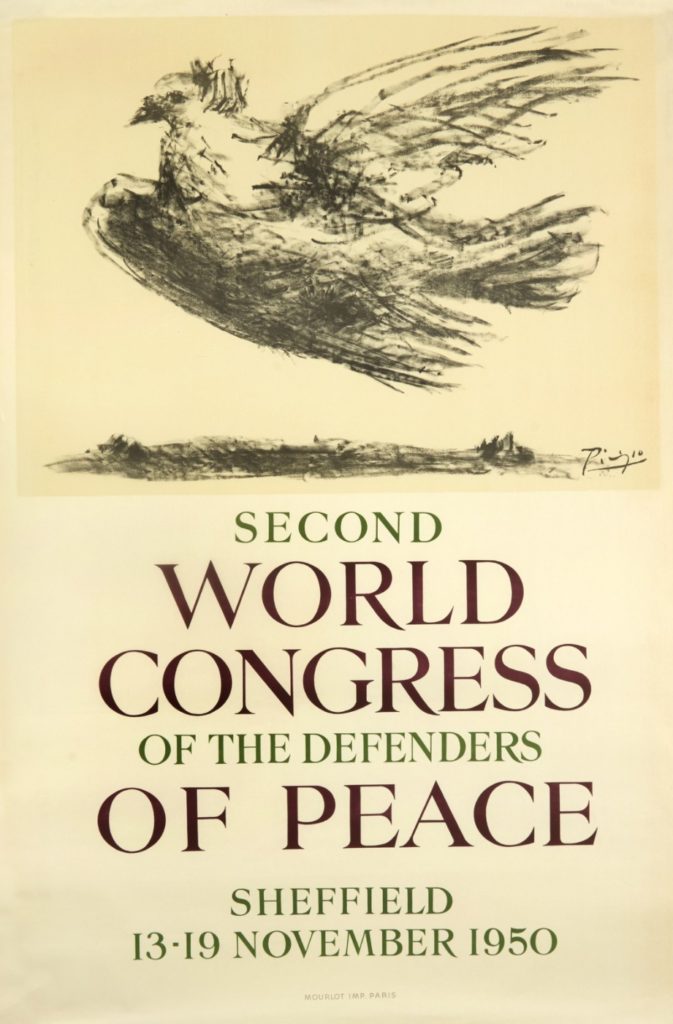 "I stand for life against death; I stand for peace against war," he said at the 1950 Peace Congress. Picasso later redesigned the dove into the simple line drawing that is one of the most recognizable and influential symbols of peace. It has inspired artists, musicians and even, ironically, the Moscow Ballet. A Dove of Peace role is exclusive to the Great Russian Nutcracker. Two dancers, each with one wing, dance together to form a beautiful dove with a 20-foot wingspan. The Dove of Peace guides Masha and the Nutcracker Prince to "The Land of Peace and Harmony." Moscow Ballet dancers also participate in International Day of Peace celebrations in September of each year.
Guernica 1937
It was market day and the quiet village was filled with women and children. There were few men left in Guernica, as most were off fighting in the Spanish Civil War against Franco. The Nazis bombed the town for two hours, slaughtering hundreds of innocents. When the town caught fire, those not burned to death tried to escape the inferno by taking refuge in the outskirts of town. But there was no escape, as they found themselves trapped all around by bombed-out bridges and roads. The Nazis supported the rebel forces of General Franco to test out war tactics and weapons. Although there was a munitions factory outside Guernica, it was left unscathed by the April 1937 bombing. It is believed that the attack was used to intimidate those in opposition to Franco's impending rule.
Hitler's Luftwaffe used the opportunity to develop and perfect tactics of aerial warfare that would fuel Germany's blitzkrieg through Europe during 1939 and 1940. As Hermann Goering testified at his trial after World War II: "The Spanish Civil War gave me an opportunity to put my young air force to the test, and a means for my men to gain experience."
The town was entirely destroyed with a loss of life estimated at 1,650. The world was shocked and the tragedy immortalized by Pablo Picasso in his painting Guernica.
The dove was a recurrent theme in Picasso's work from early on.
Picasso returned to his Peace Dove design, creating numerous versions for the rest of his life.