The Neutral Ground
---
---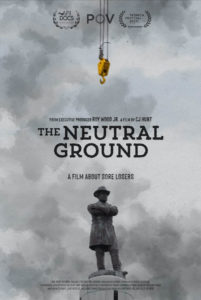 The Neutral Ground documents New Orleans' fight over monuments and America's troubled romance with the Lost Cause. In 2015, director CJ Hunt was filming the New Orleans City Council's vote to remove four confederate monuments. But when that removal is halted by death threats, CJ sets out to understand why a losing army from 1865 still holds so much power in America.
The failure to remove Confederate monuments is a constant reminder of how America continues to perpetuate racism and fails to repair the damage it has caused. Narrated by writer and comedian CJ Hunt, The Neutral Ground follows Hunt's exploration into Confederate monuments and the ideology of The Lost Cause of the Confederacy.
The film begins in CJ's adopted home of New Orleans where the fight to remove Confederate monuments sparked a nationwide movement and follows CJ as he travels across the country. He hears perspectives on both sides of the issue, exploring the history of these monuments, the backlash against their removal, and the possibility of a future without them.
CJ confronts questions of continued inequality, America's contentious and dark past, and his own complicated feelings. Scathingly funny, and painfully relevant, it is a refreshing journey between the past and the present as we stand in this moment of significant social change.
Available for rental/purchase on digital platforms as of January 4, 2022.
---
WATCH: Discussion | POV: The Neutral Ground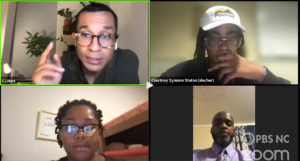 Filmmaker CJ Hunt, educator Rodney Pierce and student organizers discuss symbols to systems, the removal of confederate monuments, critical race theory and current events. CLICK to watch on pbs.org.
---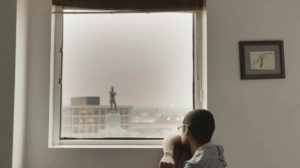 CJ Hunt: A comedian and filmmaker living in NYC, CJ is currently a field producer on The Daily Show with Trevor Noah. He has also served as a staff writer for A&E's Black and White, and a field producer for BET's The Rundown with Robin Thede. Before working in late night, CJ spent nine years living in New Orleans where – in 2015 – he began filming what he thought would be a quick and easy confederate monument removal. CJ is an alumnus of Firelight Media's Doc Lab and New Orleans Film Festival's Emerging Voices program. He is also a 2020 New America Fellow and a regular host of The Moth. A graduate from Brown University's Africana Studies department, CJ is endlessly fascinated by race and comedy's ability to say what we can't.
Darcy McKinnon: Darcy McKinnon is a documentary filmmaker based in New Orleans. McKinnon's work in documentaries includes the films Maquilapolis, Live, Nude, Girls, UNITE!, "Animals" and The Neutral Ground with CJ Hunt. With a background in education and arts organization leadership, she produces documentary work that focuses on the American South, and is currently in mid-production on Commuted with Nailah Jefferson, and Katie Mathews' Roleplay, a hybrid play/documentary about student artist responses to campus sexual assault. She also co-directed a doc short, "A Fine Girl," with support from If/Then. McKinnon's work has been broadcast on POV, LPB and Cinemax, and her current projects have received support from SFFILM, CAAM, Chicken and Egg, Firelight Media, ITVS, Black Public Media, Sundance and Tribeca. Darcy is a co-founder of ALL Y'ALL, with Elaine McMillion Sheldon, an alum of the Impact Partners Producing Fellowship, and one of Filmmaker Magazine's 2020 25 new faces in independent film.