The Birds Are Still Singing
---
---
The Birds Are Still Singing
The Birds Are Still Singing is a joyful, life-affirming fusion of colour and spontaneity that defies categorization — part-embroidery, part-textile art, part-mixed media, part-collage, layer building upon layer to create a unique three-dimensional artwork hinting at a spiritual dimension.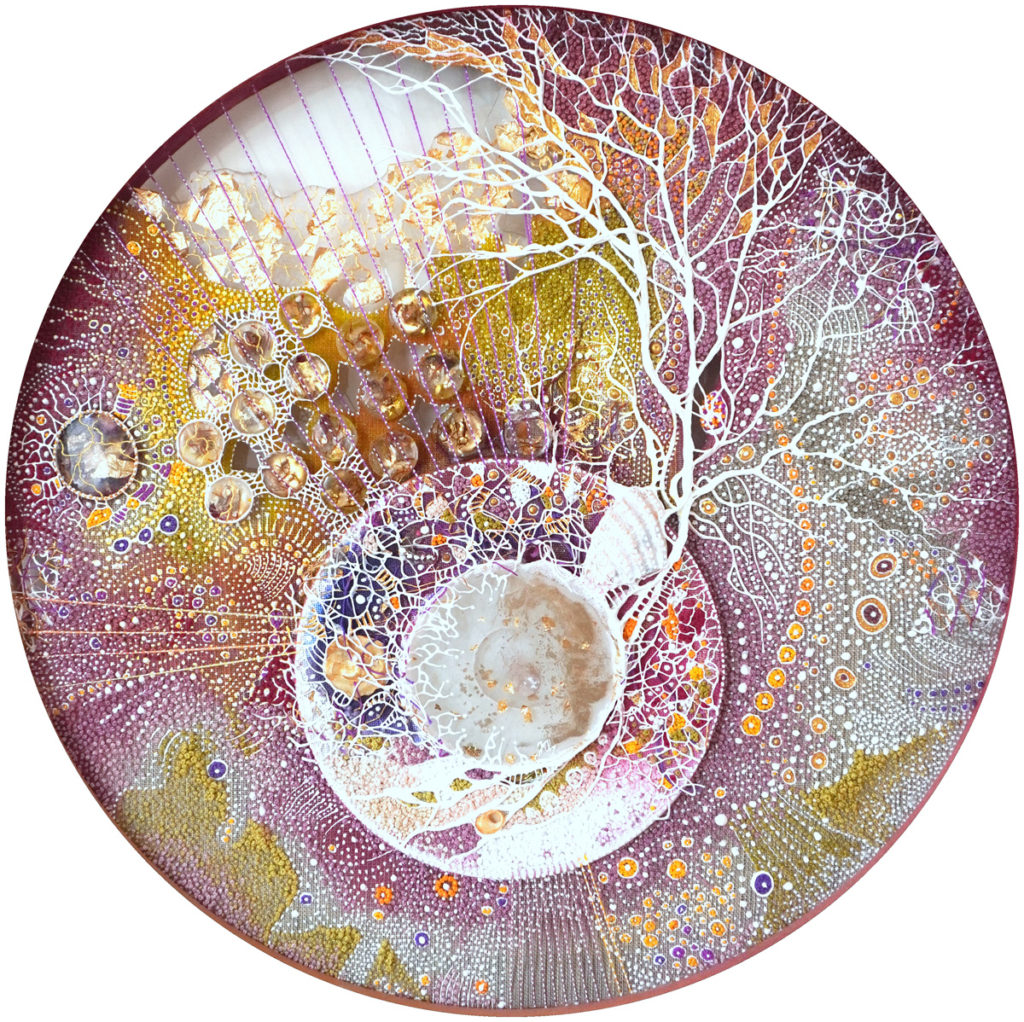 Origins
Ode to a Hummingbird
On the Wings of Love
Constallating 
Carnival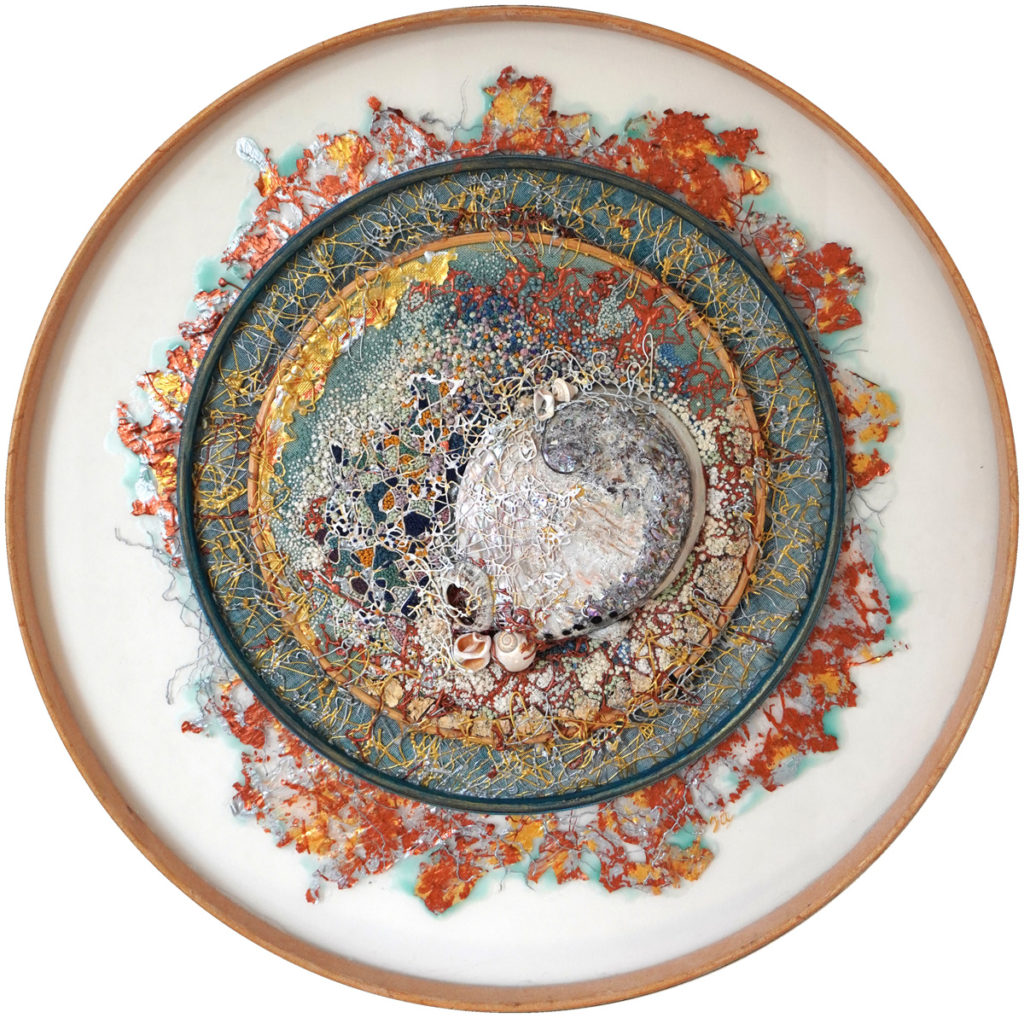 Ocean Filigree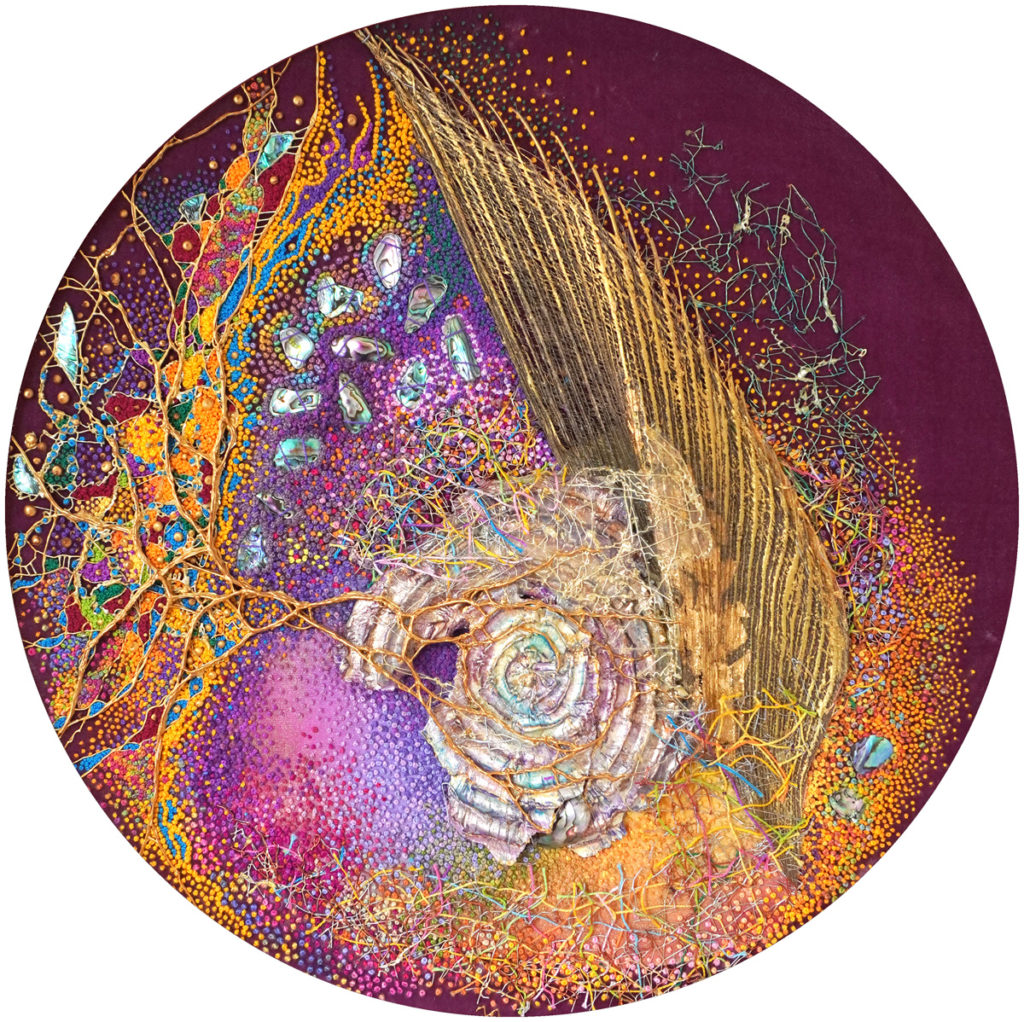 Changing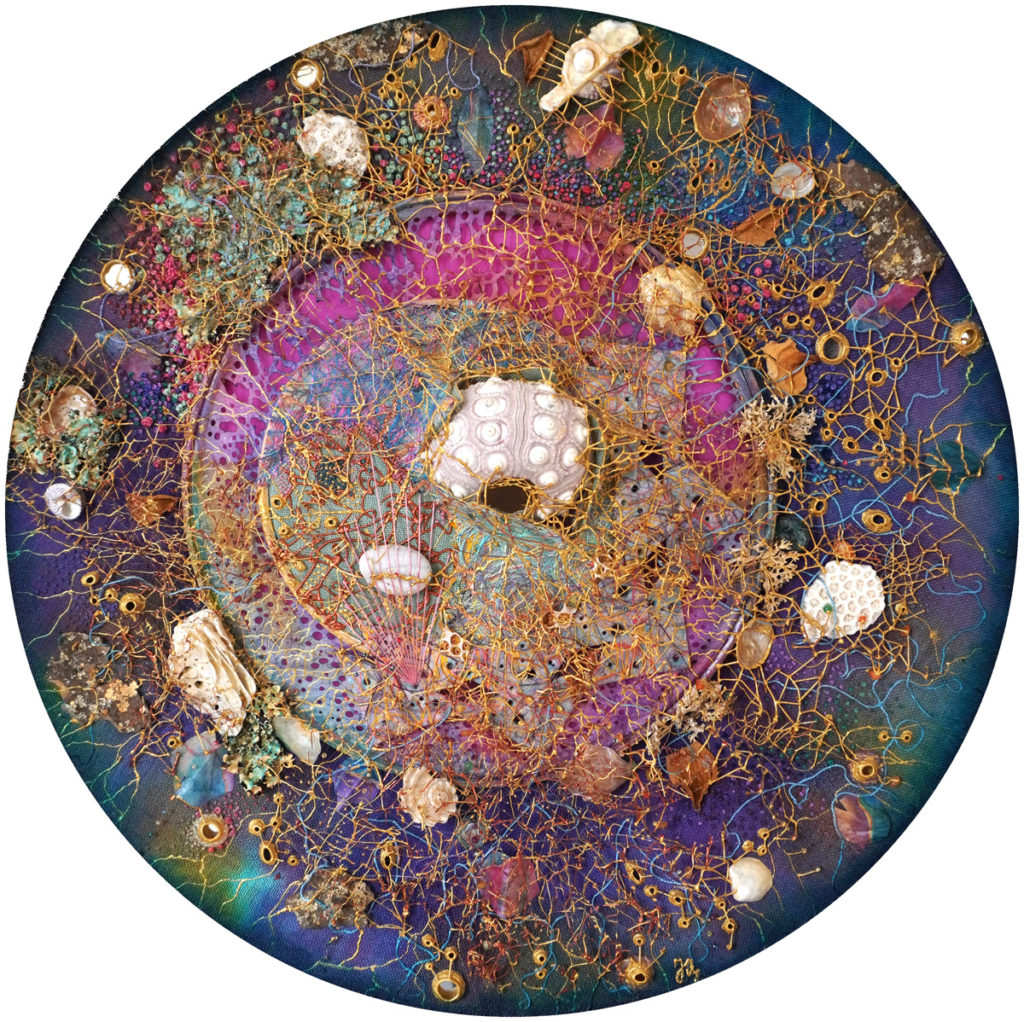 Reclaimed
---
Fiona Almeleh
Fiona creates sculptural embroideries, incorporating natural objects and organic materials such as shells and bark. She loves working in an unplanned way as it brings about a kind of creative alchemy.
Fiona was born in Harare, Zimbabwe, and has been an artist all her life. She has published several books and held exhibitions in different parts of the world as well as being featured on TV and radio. Recent exhibitions include Coming Home in 2016, Day of the Hummingbird in 2018, Painting Light Breathing Colour in 2019 and The Birds are Still Singing in 2022. — Kate Philbin
Creativity is the impulse that maintains us, regardless of the challenges we face. Throughout lock down, the birds continued to sing and people continued to create, often in new and different ways. Many of us appreciated the beauty of the natural world as never before. These pieces tell stories in thread and threads unite us.
Since early childhood, I have had a love for natural textiles and nature's textures. It would be true to say that my beloved mother was my first inspiration. I watched her sew all our clothes on her ancient, foot pedal Singer machine; often hand-stitching and embroidering special details into them. It was mesmerizing the way she was so completely absorbed and involved in the process of creating something beautiful. Another delight was visiting my Grandfather and Uncle in their fabric shop in what was then Salisbury, Rhodesia. Here I was surrounded by every kind of print from all over Africa; some hand blocked, others batiked. The delight of this world of intricate patterns combined with the smell of cotton and old wood was intoxicating. In addition, I attended sewing class as a schoolgirl, and here I learned to make clothes and smock. I taught myself through play and experimentation with dyes, and fabric printing methods; playing with fabric and thread became my great joy.
Other than being schooled in machine sewing, the treasures I picked up observing my mother, as well as a friend in Oxford kindly showing me a couple of embroidery stitches, I have had no formal training in hand embroidery. I am not one for rules and my creative impulse has simply led me on a fantastic journey of discovery. A hoop with stretched fabric is an invitation and a blank canvas to explore untold possibilities. To this end, I am committed to never planning my embroidery pieces or any other artwork.
I have only ever worked by hand on these embroidered, threaded, sculptural pieces. For the most part, I stitch, and may hand mold clay or resin inclusions; or I may use dried, organic matter such as shell, bark, moss, or lichen. Gold leaf, fine gold dust, and relief paint often find their way into the pieces; I may hand paint or hand dye the fabric or threads; it all depends on what feels right and comes to hand in relation to each moment. The fabrics are always natural and I have a preference for raw hemp and linen. The threads are usually cotton, wool, hemp, or silk. I am neat by nature and prefer to be in an uncluttered environment. I never have a store of materials and prefer to purchase what I need when the urge to create arises. I mentioned to a friend that I recently mislaid my embroidery needle and spent a long while searching for it. Of course, I have other needles but was determined to find my old stitching companion. I feel we make relationships with things, even though they appear to be inanimate, they are imbued with our life stories and carry particular energy.
During these last couple of years, when the world quietened and birdsong could be heard throughout the day, something of what I term 'the other' blessed us with its presence evoking a sense of deep gratitude for the simple things. These new embroideries are by virtue of the fact they are circular and unplanned a testament to life's creative invitation to be in the present moment. —Fiona Almeleh

Photographs of artwork by Henry Everett